The FDIC released a mostly positive Second Quarter 2018 Quarterly Banking Profile last Thursday. Net income got a healthy boost from lower tax rates as banks reported net income of $60.2 billion for the second quarter 2018, $12.1 billion or 25.1% higher than second quarter 2017. Had it not been for the new tax rate, net income would have gained $5.6 billion or 11.7%.

Net interest margins (NIM) rose at more than two out of three banks as yields on loans rose faster than yields on deposits. As a whole, NIM rose 16 basis points to 3.38% from the second quarter last year.
Not only are rates on loans increasing, but loan balances are expanding as well. Total loans and leases were up 4.2% from a year earlier and 1.1% from first quarter 2018. All major loan categories registered quarterly increases: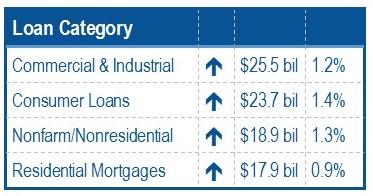 While loans are increasing, however, deposits are decreasing. Total deposits at U.S. banks dropped by $60.2 billion (0.4%). The deposit decline was most noticeable in foreign offices which reported deposits were down $38.8 billion or 3%. Total domestic deposits declined by just 0.2% or $21.5 billion; interest-bearing deposits in domestic offices increased by $13.5 billion (0.1%).
As we reported last week, two new banks were chartered in the second quarter, bringing the number of new banks for the first half of 2018 up to five. No banks have failed as of yet in 2018, but 64 were absorbed by mergers in the second quarter.
The FDIC currently has 82 banks on its Problem Bank List, down from 92 last quarter. Bauer currently has 91 banks on its Troubled and Problematic Report, down from 101 last quarter. Of the 91: 80 are operating under Supervisory Agreements with their primary regulator; 21 are rated Zero-Stars; and three are "Significantly Undercapitalized" by regulatory standards. Yes, they have their problems, but these 91 banks represent less than 2% of the industry.
At the opposite end of the spectrum, 139  banks joined the elite ranks of 5-Star rated banks this quarter that were  previously rated 4-Stars. These banks are listed on page 7 and the accompanying supplement along with their financial highlights. There were 89 that went the opposite direction (rated 5-Stars last quarter and 4-Stars this quarter). They are still among the 90% of U.S. banks that are recommended by Bauer.
The other (nearly) 8% earned ratings of 3½-Stars (Good) or 3-Stars (Adequate) with June 30, 2018 data. Please visit www.bauerfinancial.com to see how your banks fared this quarter.
Troubled and Problematic Banks by Region:
More than 40% of all banks rated 2-Stars or below hale from the Southeast region, with Georgia still home to the most. The Peach State has held this dubious distinction for many years now, but it is improving. Five years ago (June 30, 2013), 30.9% of Georgia's banks were on our Troubled and Problematic Report. Today, for the third quarter in a row, that number is below 10%. Alabama and Florida (also Southeast) each have 5% of their banks rated 2-Stars or below.
Only 6.6% of T&P banks come from the Western Region and 7.8% from the Midwest. The Southwest has 10%, mainly because of Utah, which has the fourth highest percent in the nation at 4.8%. But the nation as a whole is definitely trending down. The chart compares the current Q2 with the previous nine second quarters.