All bank star ratings and reports are now updated based on March 31, 2019 financial data. The total number of banks reporting has decreased to 5,362. That's down 4.4% from a year earlier. No banks failed in 2018 or for the first 150 days of 2019, but 44 were lost to mergers/acquisitions in the first quarter 2019.
Total assets at the nation's banks, however, have increased 3.2% in the past 12 months and now exceed $18 trillion. The 50 banks with the most year over year asset growth are listed on page 7. All major loan categories showed growth from a year ago, even though some lost ground in the first quarter:
Home equity lines (a subset of loans secured by real estate) was the only category posting a year over year decline—and it was significant. Home equity lines fell 8.3% from March 31, 2018 to March 31, 2019.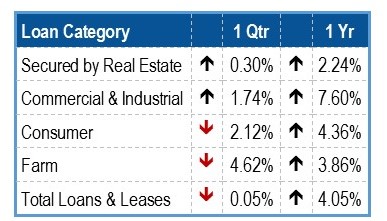 Aggregate net income totaled $60.7 billion in the first quarter. That's up 8.7% or $4.9 billion from the first quarter of 2018. That improvement was led by an increase in interest income, which is up 6% from last March.
More than three out of every four banks reported improved net interest margins (NIM). The average NIM is now 3.42%. That's up from 3.32% a year ago and 3.19% two years ago.
As for noninterest income, it declined by $2 billion or 2.9%, which was attributed to lower servicing fees—58.3% lower, in fact, than a year earlier! Noninterest expense also dropped, in spite of a 2% increase in salary and employee benefit costs.
Less than 4% of the industry posted a loss in the first quarter. In fact 63% reported earnings gains over a year ago. As a result, the industry return on average assets (ROA) has now risen to 1.35% (from 1.28% a year ago). It has come quite a long way since the first quarter of 2016, when ROA was just 0.97%.
The FDIC now has 59 banks on its Problem Bank List, which is down one from last quarter. Bauer's Troubled and Problematic Bank Report also decreased by one (from 69 to 68). These 68 banks (rated 2-Stars or below) represent 1.3% of the total number of banks and less than 1% of industry assets.
Three banks were added to Bauer's dubious list during the first quarter. They were:
Zero-Star Almena State Bank, Almena, KS;
2-Star Iowa Prairie Bank, Brunsville, IA; and
2-Star Grand Bank of Texas, Dallas, TX.
But, the number relegated to Bauer's list has dropped from 101 total banks one year ago. The most improved states were:
Georgia—which had 16 Troubled and Problematic banks a year ago and now has 9;
Illinois—which had 12 banks rated 2-stars or below with March 2018 data and now has 7;
New Jersey—went from five to just one; and
Alabama—which cut its T&P banks in half, from six to three.
Recommended Banks—those rated either 5-Stars or 4-Stars—now represent 91.03% of the industry, slightly down (3 basis points) from last quarter but up from 89.78% a year ago.
Seven states are now the proud headquarters of 100% Recommended Banks. The states that now have all banks rated 5-Stars or 4-Stars are as follow: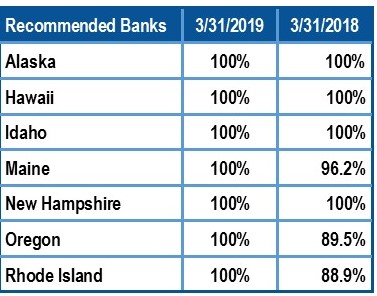 We expect to have new Credit Union ratings within the next two weeks.
As always, star-ratings are free of charge at bauerfinancial.com. Reports are also available beginning at just $15 ((Highlights Report). The Hometown Bank Ratings Report for your county ($38) or Statewide Bank Report ($60) are also popular choices for monitoring your local banks.