All bank and credit union star ratings and reports are now based on March 31, 2019 financial data. After dedicating the past couple of issues entirely to banks, today's issue focuses on federally-insured credit unions …which had a very positive 1st quarter …and year.
Only 2% of the industry is currently rated 2-Stars or below. The last time this percent was that low was the first quarter of 2008. Of course with the number of institutions that have been lost in the interim, the number comprising 2% back then was 162. Today, there are just 109 Troubled or Problematic (T&P) Credit Unions.
1st Qtr Industry highlights include: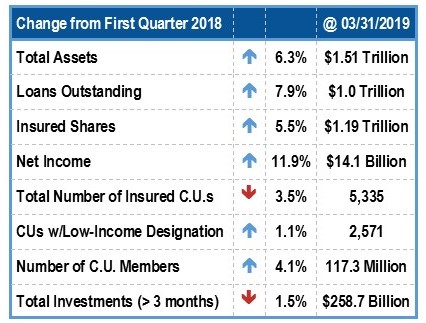 Page 7 contains a state-by state list comparing recommended (rated 5-Stars or 4-Stars) and T&P credit unions from the first quarter of 2018 to now. Most states showed improvement in the T&P but there was one notable exception.
Over 9% of the credit unions in New Jersey are now on Bauer's T&P Report. The number (15) now matches that of neighboring New York state. (This list is available for immediate download for just $99.)
The majority of T&P credit unions are on the smaller side. There is one, however, Zero-Star Municipal C.U. of New York City, with over $3 billion in assets. The NY Department of Financial Services (DFS) took possession of Municipal CU last month and named the NCUA receiver. This, after former CEO, Kam Wong, pleaded guilty to embezzling nearly $10 million.
According to reports, MCU employees have seen salary cuts  of as much as 35% since the takeover. Wong, who received a paltry 66 month prison sentence, reportedly spent most of the money on lottery tickets.
That was an isolated case. Most credit union officers look out for their members' best interests. Unfortunately, as they get bigger, that becomes more difficult. That's unfortunate because the number of really large credit unions keeps growing. There are now 315 federally-insured credit unions with assets of $1 billion or greater.
With combined assets exceeding $1 trillion, these 315 institutions control 67% of industry assets. And, they keep growing. In the twelve month period ending March 31, 2019, this group reported loan growth of 11.3%, membership growth of 9.4% and an increased net worth of 13.1%. In fact, combining the top 2 tiers by asset size results in 570 credit unions. That's just 10½% by number, yet they control over 75% of industry assets. The big keep getting bigger, but the small are mighty, at least the majority are.
The chart below demonstrates how the net worth ratio decreases in step with the increase in assets. The smallest 1,377 credit unions reported an aggregate capital ratio of 15.9% at the end of March. Not only has that been steadily climbing for the past several years, it is almost five full percentage points above the largest credit unions.

The smaller CUs are struggling a bit with loan quality, though, with a delinquency rate of 1.64% of total assets. That's much higher than any other group. This group has also been struggling to stay in the black. Its return on average assets is just 24 basis points.
On a brighter note, the NCUA chartered its first new credit union of the year on May 20th. Otoe-Missouria FCU, Red Rock, OK was established to provide the approximately 4,200 Otoe-Missouria Tribe members and tribal-owned businesses with a local financial institution they can call their own. Let's hope this is the first of many in the pipeline.