Federal Reserve Chairman, Jerome Powell did not bow to pressure from Potus to lower the benchmark Fed Funds target rate range (currently between 2¼ and 2½%). But, for the first time under his leadership, Powell failed to arrive at a full consensus.
James Bullard, President of the Federal Reserve Bank of St. Louis, and a rotating voting member of the FOMC, was the lone dissenter. He would have preferred a quarter point rate cut at this juncture. While his reasoning was not made public, we went to the latest Beige Book (released June 5, 2019) for clues.
The Beige Book is a summary of anecdotal and qualitative opinions and information gathered informally from businesses and banks in each of the 12 Federal Reserve Districts. In this case, the timeframe covered April through mid-May.
Overall, economic activity expanded, albeit modestly, but was slightly improved from the previous period. "Almost all Districts reported some growth" (our emphasis).
As you look region by region, you can see the variances: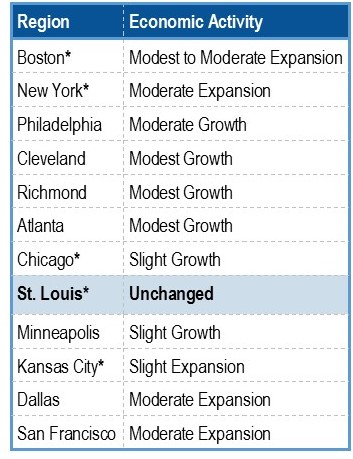 The regions noted with * have voting privileges in 2019. They have four more meetings in which to be heard. If Chicago's Charles Evans or Kansas City's Esther George perceive any further slowdown, they could decide to join Mr. Bullard.
Next year will be a whole new ballgame as the only 2020 alternating voter hailing from a region of "Slight" growth will be Minneapolis' Neel Kashkari.
The next Beige Book is scheduled to come out on July 17th. We will be looking at it closely to determine if we should expect a rate cut at the FOMC's July meeting. The schedule for the remainder of 2019 is: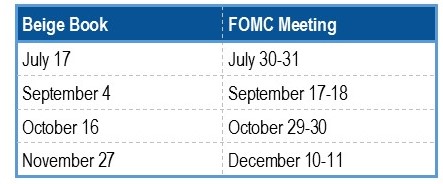 And, regardless of whether or not we see a rate cut in July, most Fed watchers, including us, are expecting at least one quarter point cut this year… possibly more.
We realize that's not very welcome news for savers and CD investors. We are also aware that a lot of banks are now offering odd term CDs with higher rates than the standard terms. So, in an effort to deliver you a broader selection of attractive CD rates from strong banks, we have added additional terms to the weekly chart on page 2 of JRN.