Household debt rose $124 billion in the first quarter 2019! That marks the 19th consecutive quarter with an increase and brings the total to $13.7 trillion. That's according to a quarterly report published by the Federal Reserve Bank of New York on Household debt and credit. The previous peak was $12.7 trillion and that was in the third quarter 2008… over ten years ago.
We'll get into housing debt next week. Today we want to look at the changes to other consumer debt, particularly credit cards. We should note that the FRBNY report was done in conjunction with Equifax Data and includes debt from all possible sources, whether it be banks, credit unions, finance companies, student lenders—any company that reports to the credit bureaus.
For our purposes, we are looking at the portion of that debt that is extended domestically by U.S. banks ONLY. For example, total credit card balances dropped by $22 billion in the first quarter 2019. However, credit card balances at FDIC-insured banks dropped by nearly $43 billion, almost 5%. That makes a big difference so we want to be clear.
Other revolving credit plans, store credit for example, also declined during the first quarter—by $2 billion or 2.74%. Conversely, auto loans at U.S. Banks increased $3 billion (1.5%) in the first quarter while "other" consumer loans (not mortgages) were up $4 billion.
Increased lending is great as long as it's properly underwritten. During the first quarter, bank-issued credit card accounts 30-89 days past due dropped, but that seems to be an anomaly as they rose from a year earlier. Seriously delinquent credit card loans, those 90 days or more past due, increased more than 10% over the 12 month period ended March 31, 2019.
This is something that definitely bears monitoring, but it is not sending off alarms. Remember, delinquencies hit historical lows after the Great Recession. Some amount of increase was expected.
The banks listed on page 7 all have 10% or more of their loan portfolio invested in consumer loans. They also reported at least 2.5% of those consumer loans as 90 days or more delinquent.
The majority of the banks listed do not engage in credit card lending at all. However, two of them are strictly credit card banks, and five others reported credit card loans exceeding 75% of consumer loans. Although, in one of those, the majority of total loans are not consumer loans.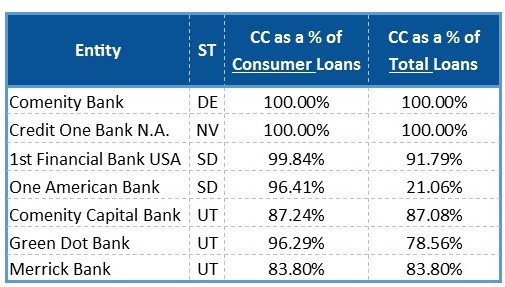 4-Star One American Bank, Sioux Falls, SD reported roughly $65 million in total loans at 3/31/19. Of those, 38% are Commercial Real Estate (CRE) loans, 21% are Consumer loans, 18% are Commercial and Industrial (C&I) loans and the other 23% are broken into various other sectors.
Its delinquent CRE loans are 1.1% – not stellar, but not worrisome either. Its total nonperforming assets are 2.1% of total assets and 2.9% of total loans. These are both a bit high compared to its peer group. But to its credit, its loan loss reserves are much higher than its peers. Reserves to delinquencies at One American Bank are 166%.
As we've said many times, you have to look at the entire picture of a bank, not just one measure to make a true analysis.