We have been reporting a lot lately on different loan categories as we've been probing for cracks in the armor. Talks of an impending recession are getting louder and more prevalent, so we will continue that pursuit. This week, however, instead of a specific loan category, we are looking at banks with overall poor loan quality.
According to the FDIC's Quarterly Banking Profile for the first Quarter 2019, noncurrent residential mortgage loans and consumer loans (except credit cards) continued to improve, but noncurrent commercial & industrial loan balances witnessed their largest increase in three years.
The largest increase (13.7%) was in farm loans pushing the noncurrent farm loan rate up 16 basis points to 1.28%. Similarly, noncurrent farm-land loans increased by 17 basis points to 1.51%, and noncurrent agriculture production loans had a 14 basis point increase but remained below 1% at 0.93%.
The average overall noncurrent rate of 0.99% was unchanged from year-end, but over 41% of the nation's banks reported an increase in noncurrent loan balances during the first quarter. Community Banks fared better than the larger banks, in some regions better than others, as you can see below.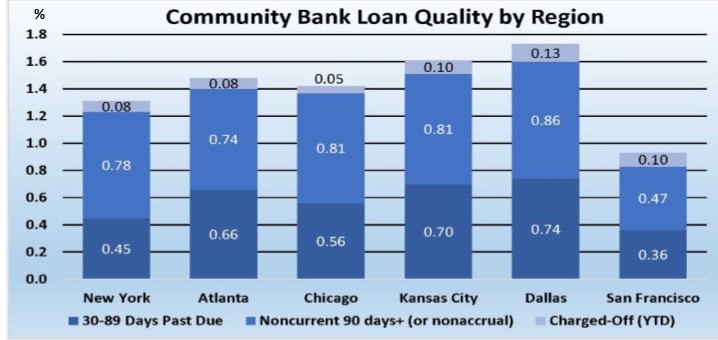 In addition to being rated 2-Stars or below, each of the banks listed on page 7 has:
nonperforming assets (excluding those with government guarantees) greater than 2% of tangible assets AND less than a 50% loan loss reserve ratio to delinquent loans. (Remember loan loss reserves should be sufficient to cover all delinquent loans in a worst case scenario.);
OR a Bauer's Adjusted Capital Ratio of less than 3% (In our observations, a bank is more likely to fail when its Bauer's Adjusted CR falls below 0%. There are currently 16 banks where this is the case.);
OR a Texas Ratio exceeding 50%. (According to the developer of the Texas Ratio, Gerard Cassidy, banks tend to be at risk of failing when the Texas Ratio reaches 100%. There are currently 14 banks that fall into this category.)
Since Bauer's Adjusted CR and the Texas Ratio both measure delinquencies, the majority of banks that fall into one of these categories fall into both. But, there are two exceptions based on first quarter data:
Zero-Star Farmers and Merchants Bank in Lakeland, GA and Zero-Star Grand Rivers Community Bank, Grand Chain, IL both have negative Bauer's Adjusted CRs but have Texas Ratios under the 100% threshold,
All of the banks on page 7 can also be found on Bauer's Troubled & Problematic Bank Report, in addition to another 30 banks rated 2-Stars or below. This report is available for immediate download as either a pdf file or Excel® spreadsheet bauerfinancial.com.
The current report is based on March 31, 2019 financial data; June 30, 2019 reports should be available around the end of August. We will be interested to see how they change.