Credit Unions Up Credit Card Lending

In the past five years, the nation's credit unions have increased their credit card lending by 36% (see chart 2). Some of that increase is because more of the industry is offering credit cards as a service to members (see chart 1).
But much, if not most, of the increase is due to an increased appetite from consumers (JRN 36:39). We don't see an inherent problem with this as long as the loans are properly underwritten and, since they are not secured, the standards should be more stringent than secured loans. But this is clearly not always the case.
The total delinquency rate for all credit union loans is an impressive 63 basis points. However, the delinquency rate for the credit card portion of those loans is almost double that (see chart 3). And it continues to climb.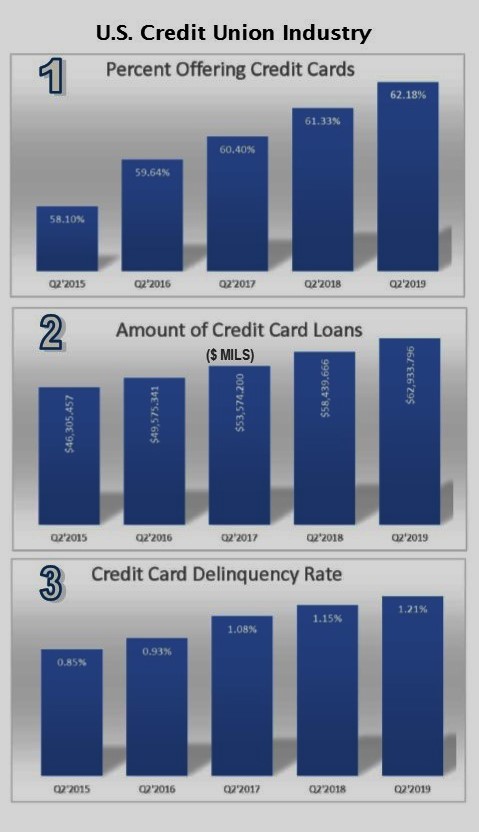 To put that into perspective: The delinquency rate on automobiles is 55 basis points and on fixed real estate is 0.41%. These loans are secured by something the credit union can repossess. Due to their nature, credit card loans tend to have higher delinquency rates than other loans ...and therefore carry higher interest rates, too.
These are aggregate numbers though, and do not reflect what's happening at individual credit unions. The credit unions listed on page 7 have the highest number of credit card loans as a percent of total loans. So, for example,  5-Star Navy Federal Credit Union, which is the largest credit union in the nation, ranks as number 19 on page 7. Its credit card loans account for 22.73% of its total loans.
Most of these credit unions are adhering to proper underwriting guidelines. 5-Star Acme Continental CU, IL, is one such institution. Of its $8 million in credit cards loans, its delinquency rate is an impressive 0.47%.
Conversely, 1-Star MSBA Employees FCU, NY (number 9 on the list) has credit card loans totaling over 27% of total loans. And of those, 16.4% are 60 days or more past due contributing to the 1-Star rating. MSBA EFCU has other problems too, including a capital ratio of just 4.67%. With little-to-no capital buffer, it is even more important for MSBA EFCU to reign in its bad loans.
Remember, BauerFinancial takes a holistic approach when assigning star-ratings. Our analysts look at the entire financial condition of each institution and conduct independent stress tests based on that condition as well as historical data. That way, all you have to do is look at the Star-Rating.
Let Bauer do the work for you: 5-Star and 4-Star institutions are all Recommended by Bauer while 2-Stars and below are considered Troubled or Problematic. It doesn't get easier than that. Visit bauerfinancial.com for the current rating of your bank or credit union.