It's Tru(ist), There's a New Era in Big Banking

The merger between two southeast powerhouses: 5-Star Branch Banking & Trust (BB&T), Winston-Salem, NC and 5-Star SunTrust Bank, Atlanta, GA closed on Friday, December 6, 2019.  The resulting Truist Bank, will operate under the  BB&T charter and will be headquartered in Charlotte, NC.
Even after divesting 30 branches  and $2.4 billion in associated deposits (to satisfy anti-trust concerns), the combined holding company, Truist Financial Corp., will control roughly $450 billion in assets planting it securely among the top 10 holding companies by asset size in the nation. The branch divestitures are reportedly concentrated in Georgia, North Carolina and Virginia.
This is the largest bank merger that we've seen in well over a decade and it begs the question: Is this an  isolated instance or are we entering a new era of Big Banks?
Truist Bank's branches by state, prior to divestiture, are listed below. (Source: FDIC as of November 24th.) We calculated the total market share for each state affected by this merger and it's not a pretty picture. Look at Florida, for example (which is not on the divestiture list). If regulators continue to allow such large banks to merge, the state of Florida could—theoretically—be limited to  just 10 banks, or fewer. No one wants that… except maybe the Big Banks.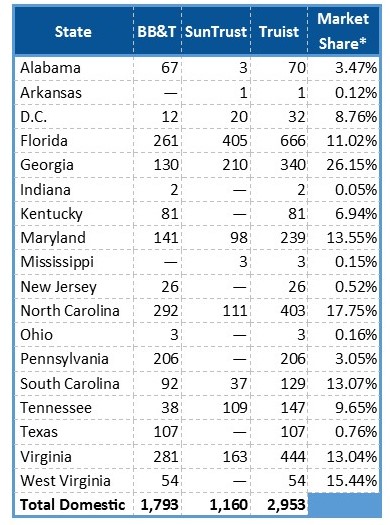 Aside from creating an oligopoly, which are well-known to produce poor service and high prices, the entire banking system could conceivably be put at risk. Case in point: The 4,825 "Community Banks" reported third quarter earnings 7.2% higher than a year ago and 62% of those community banks reported income growth.
Yet, net income for the entire industry (which includes the 400 Big Banks) was down 7.3%. That decrease was attributed to just three mega banks. The most glaring was MUFG Union Bank, N.A. of San Francisco, which lost $1.358 billion due to a one-time goodwill impairment charge. While this is a non-cash, seemingly benign event that did not have a major impact on MUFG Union Bank itself, it did adversely affect the earnings for the entire banking industry. We'll have more on community bank earnings next week.
For now, all star-ratings have been updated based on third quarter data.