U.S. Economy Relies on Community Banks

We promised you more information regarding community bank earnings last week, and we will get to that. But first, we would be remiss if we did not mention the passing of former Federal Reserve Chairman Paul Volcker, who served from 1979 to 1987. Mr. Volcker is  probably best known (at least most recently) for the Volcker Rule provision of the Dodd-Frank Law, which prohibits banks from engaging in proprietary trading. Mr. Volcker passed away last Sunday at the age of 92.
 ___________________________________
After adding 266 thousand jobs in November, the U.S. unemployment rate of 3.5% matched a 50 year low, not only proving we are withstanding global pressures (at least thus far) but also relinquishing any doubt about whether another rate cut was in order. While we already knew it was not, the Federal Reserve FOMC agreed with us as it let the target Fed Funds range stand at between 1.50% and 1.75%.
 ___________________________________
And, we have updated Credit Union Star-ratings now available on our website bauerfinancial.com. All star-ratings and reports (for both banks and credit unions) are now based on September 30, 2019 financial data.
 ___________________________________
Now on to bank earnings. As we reported last week, third quarter net income for the entire banking industry was down 7.3% from a year earlier. However, when we remove Big Banks from the equation, community bank earnings increased 7.2% over the year. Over 60% of community banks reported annual net income growth.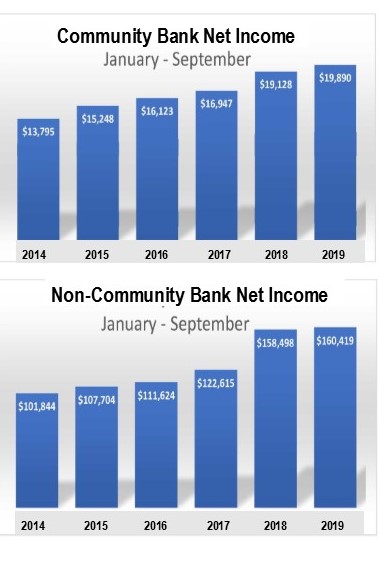 However, the percent of unprofitable community banks also increased this quarter-from 3.8% a year ago to 4.3% now. The percent that were unprofitable for the first nine months of the year increased just slightly-from 3.3% a year ago to 3.4% for the year-to-date period ending September 30th.
Noninterest expenses have increased at community banks, largely due to an increase in salaries and employee benefits. But in spite of that, the efficiency ratio has dropped to 62.5%. That's very impressive. In fact, it is at its lowest level since the second quarter of 2006! Assets per employee also increased over last year proving that community banks are effectively learning how to operate more efficiently all around.
The 50 community banks with the highest year-to-date net income are listed on page 7. This list is based on the FDIC definition of community bank.
One bank listed actually lost money in the third quarter but still was still among the top earners for the 12 months ended 9/30/2019. 3-Star DR Bank, out of Darien, CT (formerly known as Laurel Road Bank) was a major player in the student loan refinancing market until it sold those capabilities, and the Laurel Road name, to KeyBank in April. That sale was what buoyed DR Bank onto this list; it has been posting operating losses consistently for at least eight quarters. With the sale of the student loans, though, its nine month income was nearly 30% of total assets.
DR Bank was bested by 5-Star FDS Bank, Mason, OH, which, while classified as a community bank, is so highly specialized that it is really in a class of its own (much like its owner, Macy's, Inc.). Its $1.948 million in interest income combined with noninterest income of $670.107 million to bring total income up to nearly 400% of total assets.