Like banks, the number of federally insured credit unions continues to decline. After losing 155 in the 12 months ended September 30, 2019, there are now 5,281 reporting. While the number of insured credit unions dropped, total assets at those institutions increased 6.8% and total deposits grew 6.9%. Insured shares and deposits grew at the slightly lower rate of 6.3%.
With third quarter 2019 data, 83.5% of the nation's credit unions are recommended by Bauer (i.e. rated 5-Stars or 4-Stars).  Those on Bauer's Troubled and Problematic Report (rated 2-Stars or below) represent less than 2% of the industry for the second quarter in a row. Some of them-those that are either undercapitalized and/or rated 1-Star or below-are listed on page 7.
Five of the credit unionss listed on page 7 are "Critically Undercapitalized" which means they have very limited time to shape up before there is no choice but to shut them down. As of this writing, two have already found acquirers. A third is operating under NCUA conservatorship, which buys it more time. As for the other two:
After posting a $2 million loss in the third quarter, Zero-Star Winslow Santa Fe Credit Union, AZ's capital ratio dropped from  12.7% to -1%. Yikes! As a 65 year old institution, Winslow Santa Fe has limited time to bring its capital back up or find an acquirer.
After being "Adequately Capitalized" for several quarters, Zero-Star United America West FCU, CA, went to undercapitalized two quarters ago and is now (based on third quarter 2019 financial data) critically  undercapitalized. It could be celebrating its 50th anniversary  this year… or not.
You may be unfamiliar with the capital classifications on some of the credit unions listed. That's because credit unions that are less than 10 years old and below $10 million in assets have different guidelines. Well and Adequately Capitalized are the same as older C.U.s (see page 2) but below that they differ.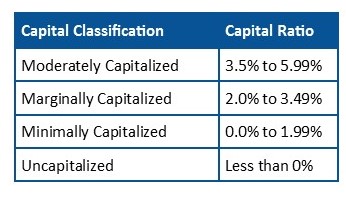 Another credit union that might stand out on the list is Zero-Star Entertainment Industries FCU, NJ. With a 7.9% capital ratio, it is "Well Capitalized" by regulatory standards. Yet, its nonperforming assets (delinquent loans + repos) account for 12.3% of assets. Its Bauer's Adjusted Capital Ratio is (-4.95%) and its Texas Ratio, if you prefer that measure, exceeds 140%!
What should not be a surprise is the number of New York credit unions listed. We have reported several times on the impact of Uber and Lyft on the taxi-cab industry, and the institutions that finance them, like Zero-Star Municipal Credit Union.
 In spite of all this, and as we already stated, the vast majority of C.U.s are doing great!