As you know, many banks are offering special emergency concessions to customers affected by COVID-19, whether it be from illness or job insecurity. Some banks are waiving overdraft and/or late payment fees. Others are granting payment extensions or forbearance on mortgage loans. And some are even allowing early withdrawal of CDs without the customary penalty.
These are all great ways to both help customers and build goodwill during a local or national emergency, but some banks didn't have to wait for a pandemic to realize the need in their communities.
4-Star Dallas Capital Bank, N.A., TX is one such bank. Each February, on National Random Acts of Kindness Day, Dallas Capital Bank employees jump in to show off "How Dallas Does Kindness." This year the bank gave each team member a $25 gift card to support their community in whatever way they wanted.
Recipients of the bank's kindness this February hailed from every age group. They ranged from senior citizens to child advocacy programs, from homeless shelters to victims of domestic violence.
And that's not all they do. Every September, Dallas Capital Bank also participates in what they call "North Texas Giving Tuesday," which is billed as the largest community-wide giving event in the nation. This September will mark the 12th annual event, but reality struck: "human need doesn't stick to a schedule".
May 5th, the area held another—Special Giving Tuesday. Many of the more than 3,000 nonprofits in North Texas benefitted as usual, but the coronavirus spurred an entirely new level of giving as well. People were encouraged to create greeting cards from the safety of their homes for the elderly, who are feeling especially isolated these days. Others recorded messages of inspiration and gratitude for those on the front lines.
Dallas Capital Bank is truly showing the rest of us "How Dallas Does Kindness." And we applaud them.
Dallas Capital Bank is also among the 50 community banks we have listed on page 7. These banks all had robust loan growth during the first quarter of 2020. They are also all Recommended by Bauer (rated 5-Stars or 4-Stars).
Total loans grew over 12½% during the first quarter at each bank listed. And while the first bank, 4-Star First Century Bank, NA, Gainesville, GA did acquire another bank late in 2019, none made any acquisitions during the first quarter of this year. The loan growth was completely organic, in response to customer need.
Given that the Paycheck Protection Program (PPP) was signed into law on Friday, March 27th and went into effect in April, the PPP was not a factor in first quarter loan growth, but liquidity concern was. Now, nearly two months later, with billions of dollars pumped into the economy, liquidity remains a concern for many businesses and consumers alike.
By the end of the day on Wednesday, May 20th, there were 5,503 participating PPP lenders according to the Small Business Administration (SBA). There were 4,393,036 approved loans totaling $512.249 billion. The average loan amount was $116,605 but 64% were under $50,000. Over 40% of the total dollar amount was approved by community banks, like those listed on page 7.
These business loans will largely be reflected in second quarter 2020 data. As for the third quarter: bank and credit union regulators just jointly issued new guidance on providing responsible small dollar lending to consumers. Guidance had been there previously, but now it is uniform.
Why was it needed? According to two recent reports—one conducted by the FDIC and the other by the Federal Reserve—millions of Americans already use small dollar loans to meet regular household needs.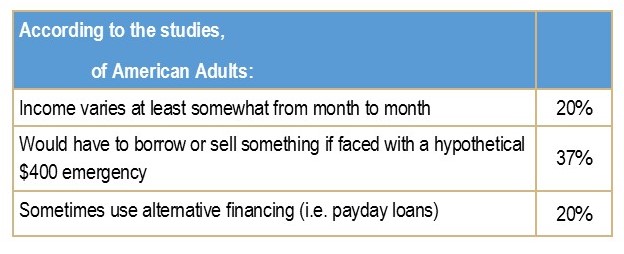 The studies were both pre-pandemic, these numbers are likely much higher today.