With constantly changing rules and rising fear that the loans may not be forgiven, the stampede for Paycheck Protection Program Loans (PPP) money slowed to a trot. Phase 1 dollars were all tapped in less than weeks; as of June 20th, when the Small Business Administration (SBA) released updated numbers, Phase 2 money had yet to be exhausted.
Companies in every state and every territory have been able to take advantage of the PPP, although to varying degrees. California has the largest slice of the pie by far, with over $67 million in loans granted, more than 13% of the total approved dollars. No other state comes close. The average loan size in California of $122,000, is just slightly higher than the national average of $110,000. The average loan size in the District of Columbia, conversely, exceeds $179,000. See page 7 for a complete state-to-state breakdown.
In addition to the Big Banks, 85% of all U.S. banks and savings and loans with less than $1 billion in assets took part in the program as well, granting over a million loans combined, worth more than $85 billion.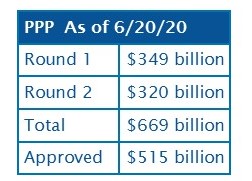 The four sectors using the majority of the PPP funds continue to be the same as when we reported on Phase 1 in May (JRN 25:17) but the order has changed. Health Care, which was #4 after Phase 1 has leapfrogged to the top and Construction, which had been #1, is now #3.
Not all PPP lenders are banks (credit unions, small business lenders, fintechs, farm lenders, even microlenders have taken part) but the top 15 PPP lenders are banks. The first 14 are "Big Banks". The 14th is a bit of a surprise: 5-Star Cross River Bank, Fort Lee, NJ.
Cross River Bank was established in 2008, in the throws of our last recession. But that's not what makes it unique. Its primary focus when it first opened was to provide credit to consumers in need. In the 12 years since, it has morphed into a technology leader as well as a community partner.
Cross River Bank has been focused on working with local organizations, elected officials and residents to assist in COVID-19 related relief efforts within the company's footprint and across the nation. It is a David on a list of Goliaths.
Well done!
| | | | | | | | | |
| --- | --- | --- | --- | --- | --- | --- | --- | --- |
| Rank | Lender Name    (Source SBA) | City | ST | Bauer's  Star-Rating | Total Assets      ($ mils) | # of PPP Loans (Source SBAè) | Total PPP Loan Amount | Average PPP Loan Amount |
| 1 | JPMorgan Chase Bank | Columbus | OH | 5-Stars | $2,439,720.000 | 262,799 | $27,798,003,966 | $109,582 |
| 2 | Bank of America | Charlotte | NC | 5-Stars | $2,031,940.000 | 333,020 | $25,171,085,993 | $75,584 |
| 3 | PNC Bank | Wilmington | DE | 4-Stars | $433,803.038 | 72,822 | $13,055,480,671 | $179,279 |
| 4 | Truist Bank | Charlotte | NC | 5-Stars | $495,079.000 | 75,759 | $12,980,900,084 | $171,345 |
| 5 | Wells Fargo Bank | Sioux Falls | SD | 4-Stars | $1,763,696.000 | 178,533 | $10,342,511,095 | $57,931 |
| 6 | TD Bank | Wilmington | DE | 4-Stars | $355,767.822 | 80,413 | $8,401,331,673 | $104,477 |
| 7 | KeyBank | Cleveland | OH | 5-Stars | $154,993.507 | 39,820 | $8,064,532,480 | $202,525 |
| 8 | U.S. Bank | Cincinnati | OH | 4-Stars | $533,129.091 | 95,969 | $7,261,899,367 | $75,669 |
| 9 | Zions Bank | Salt Lake City | UT | 5-Stars | $71,466.849 | 44,698 | $6,863,405,854 | $153,551 |
| 10 | M&T Bank | Buffalo | NY | 5-Stars | $124,147.394 | 34,746 | $6,785,924,329 | $195,301 |
| 11 | Huntington Bank | Columbus | OH | 5-Stars | $113,764.077 | 35,534 | $6,472,560,010 | $182,151 |
| 12 | Fifth Third Bank | Cincinnati | OH | 5-Stars | $183,723.698 | 36,813 | $5,406,605,847 | $146,867 |
| 13 | Citizens Bank | Providence | RI | 5-Stars | $176,632.580 | 49,271 | $4,991,020,463 | $101,297 |
| 14 | BMO Harris Bank | Chicago | IL | 5-Stars | $145,168.865 | 20,860 | $4,775,070,376 | $228,910 |
| 15 | Cross River Bank | Fort Lee | NJ | 5-Stars | $2,528.311 | 106,575 | $4,695,905,324 | $44,062 |