Third quarter Credit Union data has now been updated on our website. Here are some of the highlights. While the number of Federally-insured credit unions dropped 2.8% since last September (to 5,133), industry assets were up over 16% to almost $1.8 trillion.
Insured shares (deposits) were up 17.7% from a year earlier to $1.4 trillion and loans were up 6.3% to $1.2 trillion. We are also pleased to report that the delinquency and charge-off rates were down from both a year ago and last quarter. They stand at 55 basis points and 48 basis points, respectively.
However, the opposite is true of the industry capital ratio which, at 10.43% is down 3 basis points from last quarter and 95 basis points from a year ago.
With everything going on in the world today, we find it somewhat surprising but, credit unions continue to add members. Membership at September 30, 2020 stood at 123.7 million. That's up from 122.3 million at June 30, 2020 and an impressive 4.2 million members more than a year ago.
Over 70% of credit union assets are concentrated in the largest 364 institutions (the largest 50 of which are listed on page 7). They are a different breed than their smaller counterparts and certainly perform differently. But in the end, they are all credit unions looking out for the best interests of their members.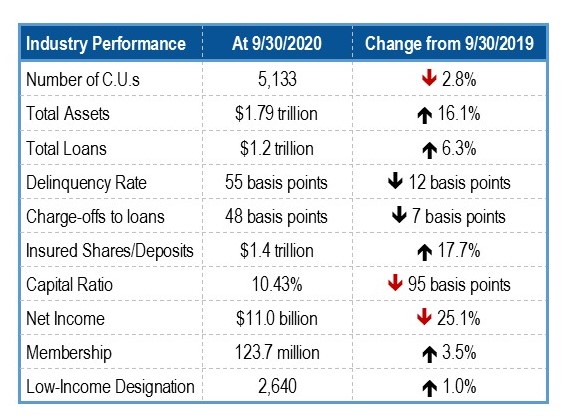 Since they are so different, we have broken the industry down by asset size as well. That smaller credit unions, those with $100 million or less in assets, are having a hard time retaining members, and it shows. Assets (especially loans), shares (deposits), membership and net worth are all slipping in this group.
The smaller credit unions are also reporting much higher delinquent loan rates and a much lower return on assets. Fortunately, they also have higher capital ratios to serve as a buffer. Of course, this is all general information. For better or worse, any credit union can buck the trends.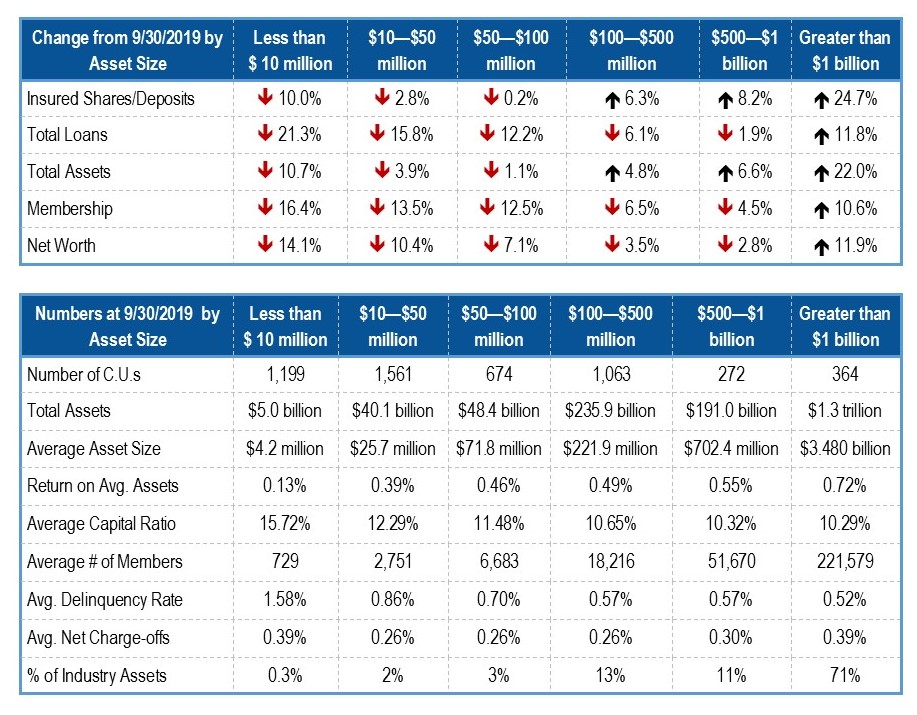 For more details on any federally-insured credit union or bank visit www.bauerfinancial.com and check out Bauer's report offerings.