In 2011, 5-Star Green Dot Bank purchased Bonneville Bank, Provo, UT, and became the first Fintech Bank in the United States. In fact, the Bonneville branch on North Freedom Boulevard in Provo still operates much the same as it did prior to the purchase. It still has the same name (although that is now a DBA) and the same tagline: "Your Hometown Community Bank".
It may seem like a hometown community bank to the folks in Provo, but for those who know it as a leading online bank, it is anything but. Growth took off immediately. At the end of 2011, the first call report filed under the new name, total assets at Green Dot were $68 million. By the end of 2012, just one year later, assets totaled $344 million. Five years later, they were at $1.3 billion and today, total assets at Green Dot Bank are close to $4 billion.
Green Dot's success did not go unnoticed. Coupled with an ever-growing need for online services and security, more community banks are learning that Fintechs can be valuable partners, and vice versa. Fintechs provide advanced technologies for their bank partners, not the least of which is cybersecurity. Banks can provide FDIC–insurance on deposits, issue credit cards and often provide trusted name recognition. Some notable BankFintech partnerships include: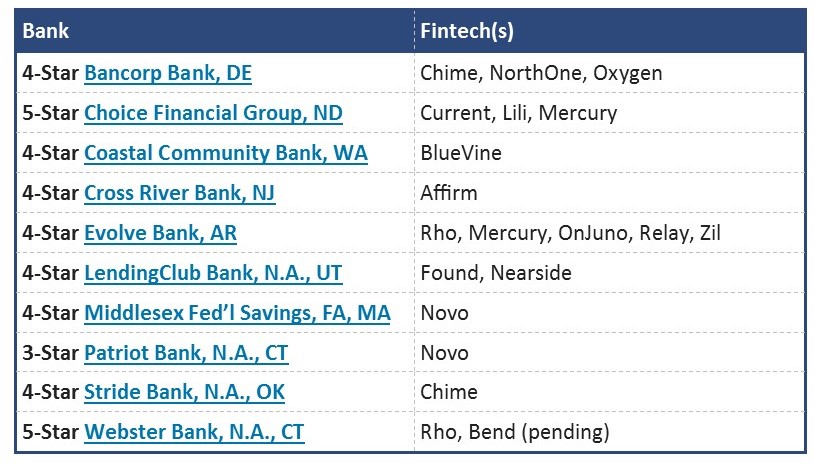 To be clear, we are not talking about Fintechs that all banks use, like PayPal, nor stock advising or trading Fintechs. Nor are we discussing banks well known for issuing store credit cards (like 5-Star Synchrony Bank, UT). We are talking specifically about Fintechs that want to offer banking as a service (BaaS). Just a couple of years ago, these companies were considered to be a major threat to traditional banking.
Today however, even as banking regulators continue to explore potential new regulation to protect consumers and the banking system, collaborations between banks and Fintechs are proving to be beneficial to the bank, the Fintech and the customer. A number of these Fintechs were created to fill a "perceived" void and help small businesses, start-ups and the self-employed to manage and grow their businesses when they felt they could not get the same help elsewhere.
Found, for example, provides business "banking" specially designed for freelancers and the self-employed. One of its big selling points is that there are no credit checks. The Found business debit card allows the expense and payment tracking. Everything is handled through the Found app, except the banking. That is handled by 4-Star LendingClub Bank, N.A., Lehi, UT.
Another, Oxygen operates in a very similar way to Found except its debit cards are provided by 4-Star Bancorp Bank, DE, as are those of NorthOne. In addition to debit cards, NorthOne also provides a digital platform for deposit accounts through Bancorp Bank. NorthOne was founded in 2017. Its goal: helping American small businesses, startups, and freelancers be more successful.
The concept has clearly caught on. Novo, a New England alternative, claims to have over 150,000 small business owners, entrepreneurs and freelancers as clients. Its deposit products are provided by 4-Star Middlesex Federal Savings, FA, MA while its debit cards are via 3-Star Patriot Bank, N.A., CT.
Remember, BauerFinancial only rates federally-insured depositories. Therefore, the banks that provide the FDIC-insured products are rated and anyone using those products would do well to check that rating before doing so. In most cases it's easy to discern what bank that is, but there are some Fintechs, like Chime, that partner with more than one bank (4-Star Bancorp Bank, DE, and 4-Star Stride Bank, N.A., OK).
Chime caters to consumers and has been a favorite among millennials since its launch in 2013. In addition to giving early access to direct deposited paychecks, Chime touts that is has no late fees, no minimum balance requirements, no monthly service fees, and more. It is ideal for young adults still learning how to handle their money.
Looking for a younger crowd yet, Current began by targeting teenagers and then moved on to young adults. Nearly half of its customers never had a bank account before. It touts much of the same benefits as Chime, but also adds checking and savings products through 5-Star Choice Financial Group, ND. In addition, Current expects to launch cryptocurrency trading later this year. That is apt to be an attractive addition for this age group. To be sure, not every collaboration will prove to be beneficial for all concerned, so, again, remember to check the star-rating of the institution before opening an account.
For those wishing to avoid these collaborations altogether,  the Cities for Financial Empowerment Fund (CFE Fund) has created BankOn coalitions that bring together municipalities, non-profits and financial institutions to create low-cost banking options across the country. These new "BankOn" accounts are another effort to onboard people who have felt priced-out of traditional banking accounts and bring them into the financial mainstream.
With over 200 BankOn certified accounts at U.S. banks and credit unions across the Nation, thousands (mostly low and moderate-income individuals) have already taken advantage of these BankOn accounts. The pandemic proved to be a big boon as consumer needed a place to have stimulus checks deposited. With favorable terms, these accounts are ripe for further growth. BankOn account requirements include: a free debit card for point of sale and bill payments; a minimum opening deposit of $25 or less; zero overdraft fees; and either low or no monthly maintenance fees.
In addition to growing their customer (or member) base, the financial institutions offering these accounts may gain valuable Community Reinvestment (CRA) service credit. It is another win-win solution. A list of BankOn certified accounts in all 50 states and the District of Columbia can be found on the CFE Fund website.