We wish we could feast on cranberries alone. That was the only item in the American Farm Bureau Federation®'s (AFBF) Annual Cost of Thanksgiving Dinner Survey that actual decreased in price this year. (Last year it was the cubed stuffing that went down alone.)
According to the survey (which we look forward to every year), we can expect this year's Thanksgiving dinner to cost nearly 20% more than last year (And last year was about 14% more than 2020.) Remember that this is an informal survey using volunteer shoppers hailing from all 50 states and Puerto Rico.
Turkey, the centerpiece of most Thanksgiving Dinner tables, has gone up almost 50% from two years ago. But at $1.81 a lb. it is still a more economical choice than ham, which runs about $2.91 per lb. according to the survey.
2022 marks the 36th year the Farm Bureau has been conducting this survey. The last time prices went down was between 2019 and 2020 and was attributed to the pandemic. Between supply chain disruptions  and life in general, they went back up in 2021 and are even higher now.
One caveat to this survey, though, is  that the volunteer shoppers are instructed not to use coupons or take advantage of special promotions. A shrewd shopper can usually get better prices on many of the items by doing so.
Another problem we find with the survey is that it does not include any beverages. Those can be expensive. But, with the exception of an expansion made in 2018, it does compare the same items, in the same manor, each year.
As CD investors, we cannot complain too much about inflation, though. Not as long as CD rates are rising, too. Which they are. The chart below shows the Top Jumbo CD rates from Jumbo Rate News this week (along with changes from last week) and compares that to the corresponding week last year.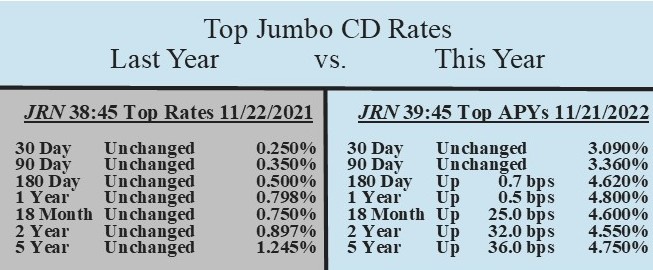 We always like to take a moment to thank those who make this meal possible for us each year:  our farmers and ranchers.
And also the banks that service agriculture. To that end, the 50 community banks listed on page 7 each have at least $275 million in loans outstanding in U.S. Farm and Agricultural lending as of June 30th, 2022 financial data. Most are rated 5-Stars and all are recommended by BauerFinancial (i.e. rated 5-Stars or 4-Stars).
God Bless you all. Have a
 Happy
   Thanksgiving!