The banking industry hired 55,000 full-time equivalent (FTE) employees in calendar 2022. That was a rather surprising 2.66% increase over the year, after what had been a rather stagnant hiring decade. The 10 year employment growth, even after the 2.66% last year, was just 0.70%. That's a stark contrast to the more than 60% growth in industry assets.
We have to wonder, though, if some of those with exuberant hiring are now finding themselves with buyer's remorse. This comes as some of the biggest gainers of 2022 are announcing plans to decrease staffing levels in 2023.
5-Star Capital One, N.A., McLean, VA, is one such example, but it has its own idiosyncrasies. Last October, Capital One, N.A. absorbed its sister bank, Capital One Bank (USA), N.A.  That transaction by itself nearly doubled Capital One's workforce. Removing that from the equation, Capital One only gained about 1,000 FTE employees, representing just 1.66% of its workforce.
This year, Capital One is reportedly eliminating 1,100 tech jobs. So, there go those 2022 gains.
5-Star JPMorgan Chase Bank, N.A., Columbus, OH, the nation's largest bank by assets as well as the nation's large bank employer, reported close to 15,000 new FTE  employees in '22. After reporting a steep drop in its home lending revenue, it has already begun laying off what is expected to be hundreds of workers, or more, this year.
Then there's 5-Star Flagstar Bank, N.A., (formerly New York Community Bank) which gained over 2,000 FTE employees last year. Early in the first quarter Flagstar announced it would eliminate close to 800 jobs in a major restructuring of its home lending unit.
We don't know yet how its unplanned/unexpected acquisition of Signature Bridge Bank in March, will affect those plans.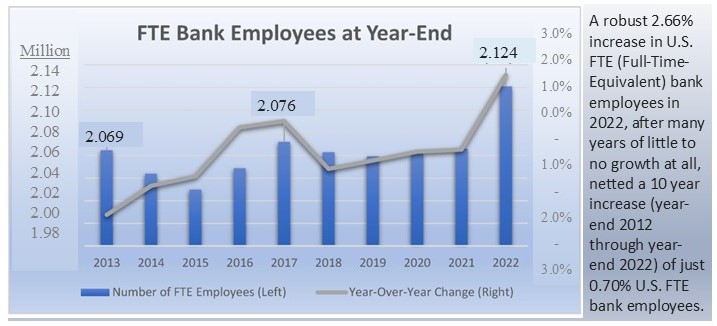 We do know that inflationary pressures and cost-cutting efforts are apt to undo most, if not all, of last year's employment gains as some banks have already began their cutting. 4-Star Bank of America, for example,  announced it will cut thousands of jobs in Asia. It "reportedly" intends to simply use attrition to pare back its U.S. staff. We'll see.
The 50 banks listed on page 5 of this week's Jumbo Rate News each reported a decrease of at least 16% of their workforce during calendar 2022 (based on the number of full-time equivalent or FTE employees reported at year-end). To make the list more meaningful, we excluded the really small banks, those that lost fewer than ten employees during 2022.
You'll notice that several of the bank's listed on page 5 lost more than 50% of their workforce last year. Some, like 4-Star MUFG Union Bank (aka Union Bank), CA and 5-Star Bank of Jackson Hole, WY, were pruned in preparation for sale.
Union Bank is in a period of transition following its December acquisition by 4–Star U.S. Bank-Cincinnati, OH. Bank of Jackson Hole, similarly, has trimmed down after becoming part of the 4-Star NBH Bank, Greenwood Village, CO, family. NBH Bank now operates under the following brands: Bank Midwest (KS & MO); Community Banks of Colorado (CO); Hillcrest Bank (ID, NM, TX & UT) and Bank of Jackson Hole (WY).
Others have their own unique stories, and struggles, in the current environment. Established as a mortgage company in 1970,  1-Star Paramount Bank, Hazlewood, MO received its bank charter in 2004. It was bad timing. With the housing bubble bursting in 2008, Paramount (as a bank) has struggled from the get-go. By the end of 2022, Paramount Bank had posted six consecutive quarterly losses. It lost $4 million in 2022 and $4.2 million in 2021. During calendar 2022, its total assets plummeted 38%. It was in no condition to maintain the 134 employees it had at year-end 2021. After a 66% cut, Paramount Bank ended 2022 with just 46 FTE employees.
Then we have 4-Star Austin Capital Bank,  Austin, TX, which is in a category by itself. For several years, Austin Capital Bank won accolades as one of the fastest growing private companies in the area. That ended abruptly in 2022. After peaking at $418 million in assets and 229 FTE employees, Austin Capital ended 2022 with assets under $330 million and only 90 FTE employees.